A tasteful history
Laboratory worker Anders Nilsson and chemist Fritz Borg are sitting in the back room of the Fläkta Örn chemist's shop located at Stortorget in Malmö. Nilsson is developing an idea and Chemist Borg is listening. Nilsson wants to begin producing domestic essences and extracts for producers of liqueurs and spirits. Know-how related to production and products is Nilsson's area. Means, production technology and businessmanship are Borg's areas. Borg goes ahead. It is 1893, and Saturnus is born.
It took a year to build up the production apparatus in the back room of the pharmacy. Sales were successful, and increased until 1905. It was at that time that ideas for a monopoly and proposals for liquor ordinances began to be imminent. The company began to look into a new type of drink that had established itself on the continent - soft drinks or lemonade. It was a hit, and the chemist's shop was too small. The company moved to the old Malmö cigar and tobacco factory on Grynbodgatan in 1912.
Borg and Nilsson put a great deal of effort into developing the tastes for their soft drinks, and a great many exciting soft drink labels appeared at various establishments. The soft drink concentrate company managed to hold its own in the face of tougher competition in an increasingly monopolised liquor market.
Liepe modernises
Then the First World War broke out. Prices for imported spirits shot through the roof. Extracts and essences that could be mixed with the monopoly's Kronbrännvin vodka became extremely popular, especially the ones for liqueurs. Liqueur essence sales grew to become much larger than soft drink sales.
Anders Nilsson passed away in 1918; Borg followed two years later. The company was sold to enterprising businessman Arvid Liepe. He completely modernised the company. Electricity and central heating were installed. He launched Saturnus bottles in 1925, which became well recognised. The range was diversified, and sales both to consumers and the industry increased. Arvid Liepe passed away in 1927. His son Gunnar Liepe, 21 years of age, took over. Gunnar had studied in England, Germany and Sweden. He quickly established a plan with new objectives and means.
His focus was clearly upon the consumer market. It was now time for the company's first advertising campaign and sales materials. Gunnar Liepe was inspired by a visit he made to Beckman's studio in Stockholm. He produced a logotype, posters, sales materials and a great many classic Saturnus advertisements.
First with Cuba Cola
Malmö architect Stig F. Johansson designed an entire block on Lantmannagatan in Malmö for a factory, warehouse and offices. The new factory was completed and fully equipped with the most modern equipment available at that time in 1937.
The factory was not only Johansson's first large piece of work, it was also a magnificent example of functional design being applied to an industrial facility.
Nils-Håkan Håkansson, who was married to Arvid Liepe's daughter, Monica Liepe-Håkansson, ended up in the CEO chair when Gunnar Liepe suddenly passed away. Nils-Håkan Håkansson guided the company through a new phase with deliberate product development combined with marketing efforts.
Saturnus produced a great many products during the Second World War to supplement products that were in short supply, and thus became even more well known in Swedish households. Saturnus introduced its wine yeasts after the War, and Saturnus Vinbok, a book about wine, was widely distributed. At the same time, the trendy post-War fashions from the USA resulted in a great deal of interest in Cola drinks. The debate was heated, and Coca Cola wasn't allowed to market its products in Sweden until 1953. Saturnus was ready - Cuba Cola was launched a few months before Saturnus' American competitor began marketing its products.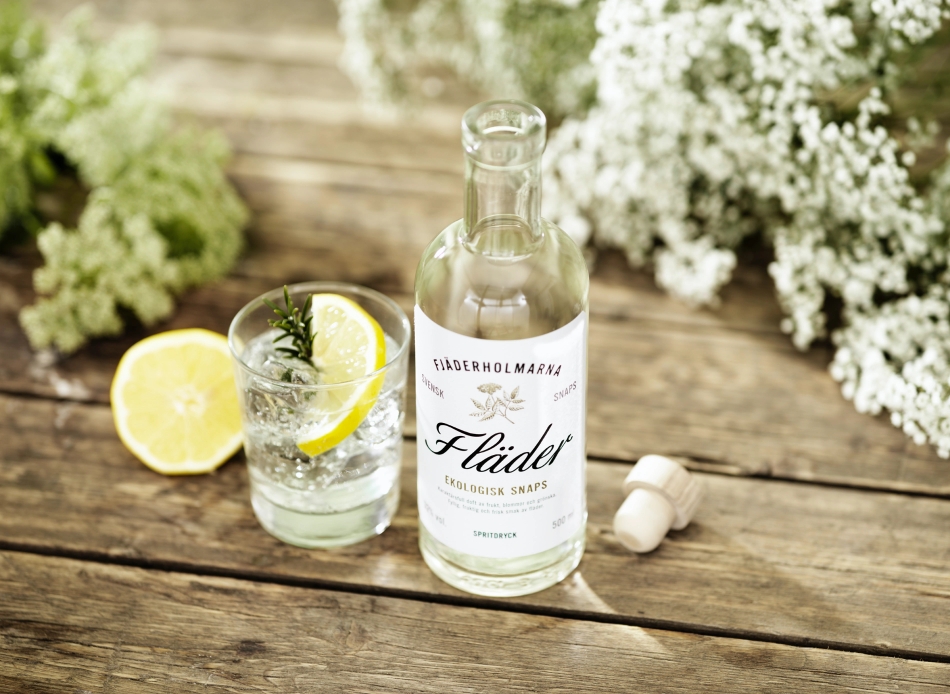 Schnaps and mineral water
Saturnus was wholly owned by Monica Liepe-Håkansson, until 1997 at which time she sold the company to her grandson Edward Liepe. He had taken over the position of CEO from his father Henrik Liepe in 1995.
Saturnus had been recognised for its glogg and arrack punch and liqueur extracts for over a century.
However, the monopoly on producing alcohol was lifted in 1995, and Saturnus was one of the first companies to be granted permission to produce alcoholic beverages, propelling the company into a new phase. A new range of vodka and flavoured vodka was developed and launched. Products were primarily marketed on the Swedish market the first few years, and the company's dominant customer was Systembolaget, which is the Swedish Alcohol Retail Monopoly. Skärgårdssnapsar, Piratens Besk, Utö and Elchblut, are some of the items in the range that consistently grow; however, it's not only the range that is increasing; rather, the number of markets that offer Saturnus' products are increasing. Elchblut and seasonal schnapps are marketed throughout Europe via IKEA. Saturnus' flavoured vodka is also currently available in various tax-free markets and border shops. Stockholm Krystal vodka is now available in a number of sizes, and is primarily marketed in the USA.
The company moved to new premises on Bronsyxegatan in Malmö in 2000. All of the company's departments are collected here under one roof. The new premises offer positive prerequisites for future ventures and projects.
A clear example of a successful venture into new and trendy products is Espresso House Coffee Syrups.
Drinks such as Aquador mineral water and Ubuntu cola continue to help modernise our product range.
Edward Liepe sold the food colouring and aroma department on 31 August 2006, creating further opportunities for future ventures related to Saturnus' consumer products.
Saturnus began marketing Evian and Badoit, which are international brands, in 2007. In the autumn, brand Tindra glögg was launched and became an instant success on both the monopoly Systembolaget and in grocery stores.
In the autumn of 2008 Tequila XQ from Jalisco in Mexico became Satunrus first alcoholic agency product. The same year, a collaboration with The Xanté Company began regarding the production of their successful pear cognac.
We continue to develop our range and are currently working with both KRAV and Fairtrade-certified products.
We use locally grown raw materials as much as possible.
The family business currently has a turnover of approximately SEK 100 million and 30 employees.